Pastor Kimberly Marie Evans is the daughter of Bishop James and Mrs. Beulah Daniel. She has one daughter, Faith Marie.

Under the pastoral leadership of Bishop James Daniel for almost two decades, she served as Youth Minister, Program and Activities Director and Minister of Music at the Greater Joy Missionary Baptist Church in Durham, NC.

At Greater Joy International Ministries in Durham, NC, Min. Evans served as a youth leader, member of the Music Ministry and leader the women's ministry, W.o.W.W. (Women of Warfare and Worship.)

Although Pastor Evans has ministered in many capacities for two decades, she formerly answered the call into the ministry of the spoken Word in July of 2010. Since that time, she has ministered diligently, carrying the Gospel, with a candid, relevant and bold delivery.

Pastor Evans was ordained in November of 2011.

In January of 2012, under the direction of the Holy Spirit, Pastor Evans began Greater Joy Baptist Church in Butner, NC. This ministry seeks to impart the promises of God to His people while guiding them on unleash the promise that is within each of them.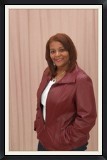 Who Is...
​ Kimberly Marie Evans